Mediterranean style leg of lamb
7 December 2020 / Posted in
Dinner
This is a festive recipe to prepare for family over the holidays. Serve this pot-roasted lamb at room temperature with salads and a light potato dish or roasted vegetables.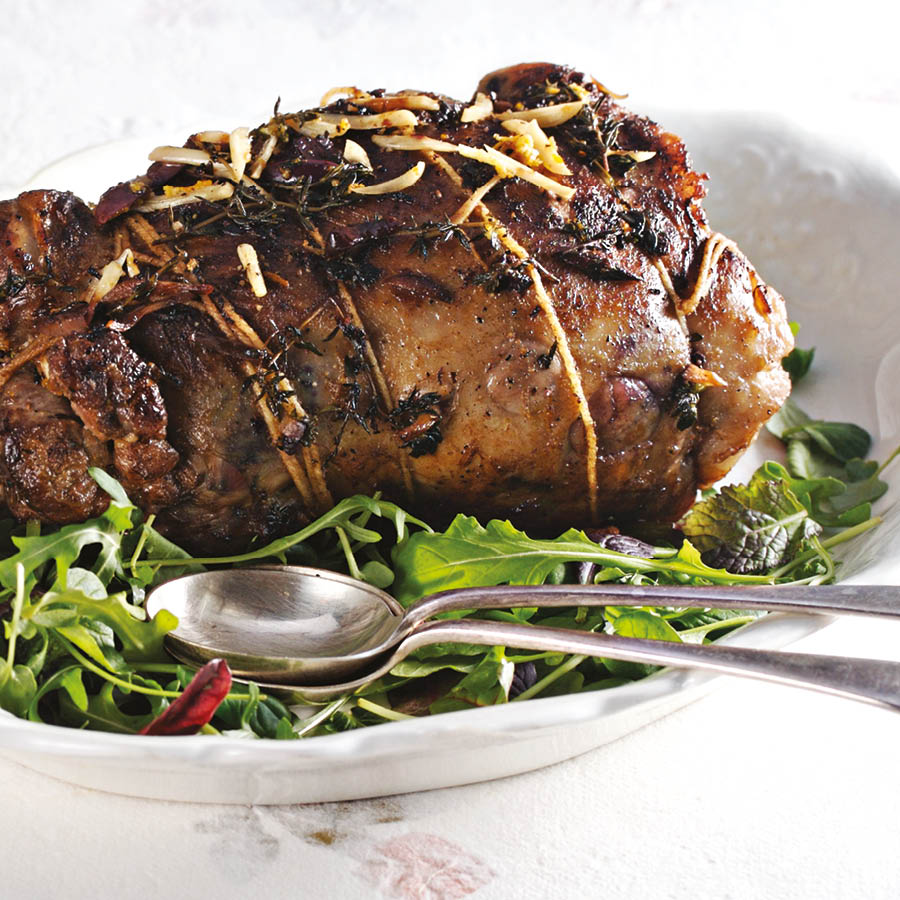 Ingredients
1.5 - 1.7 kg deboned leg of lamb, excess fat removed
8 - 10 black olives, pitted, halved and sliced (optional)
10 - 12 fresh sprigs of thyme or lemon thyme
2 - 3 large garlic cloves, finely chopped
25 ml each orange & lemon rind, finely grated
25 ml lemon juice
75 ml olive oil
Salt & freshly ground pepper

Sauce
350 ml full cream plain yoghurt
30 mint leaves, finely chopped
10 ml each orange & lemon rind, finely grated
Method
Mix rind, juice and olive oil and add any extra chopped garlic, thyme and olives. Cover lamb with marinade. If preferred, tie lamb together with a string to retain shape. Cover and leave to marinade overnight in the fridge.
Cut small 1 - 2 cm slits with a vegetable knife all over the lamb. Place a strip of olive, garlic and small sprig of thyme in each slit.
Heat an AMC 30 cm Electric Frying Pan over a medium temperature (Probe on 6) until the Visiotherm reaches the first red area. Brown lamb on all sides, pour extra marinade and season lamb to taste and cover. Reduce heat to Simmer on probe. Roast for 1½ hours for medium-rare or to taste.
Remove meat from cookware, season to taste and allow it to reach room temperature. Meanwhile mix sauce ingredients together, season with pepper and serve with lamb.

Variations
Omit olives, thyme and orange rind. Combine ground cumin, coriander and olive oil for marinade and stuff lamb with sliced dates and garlic.