Mexican Corn Casserole
This delicious combination of spicy flavours, melted cheese and sour cream is always a hit. It's very easy to prepare and can be served as a light meal or vegetarian dish. Prepare in AMC Gourmet cookware for a beautiful grilled cheese topping without any fuss.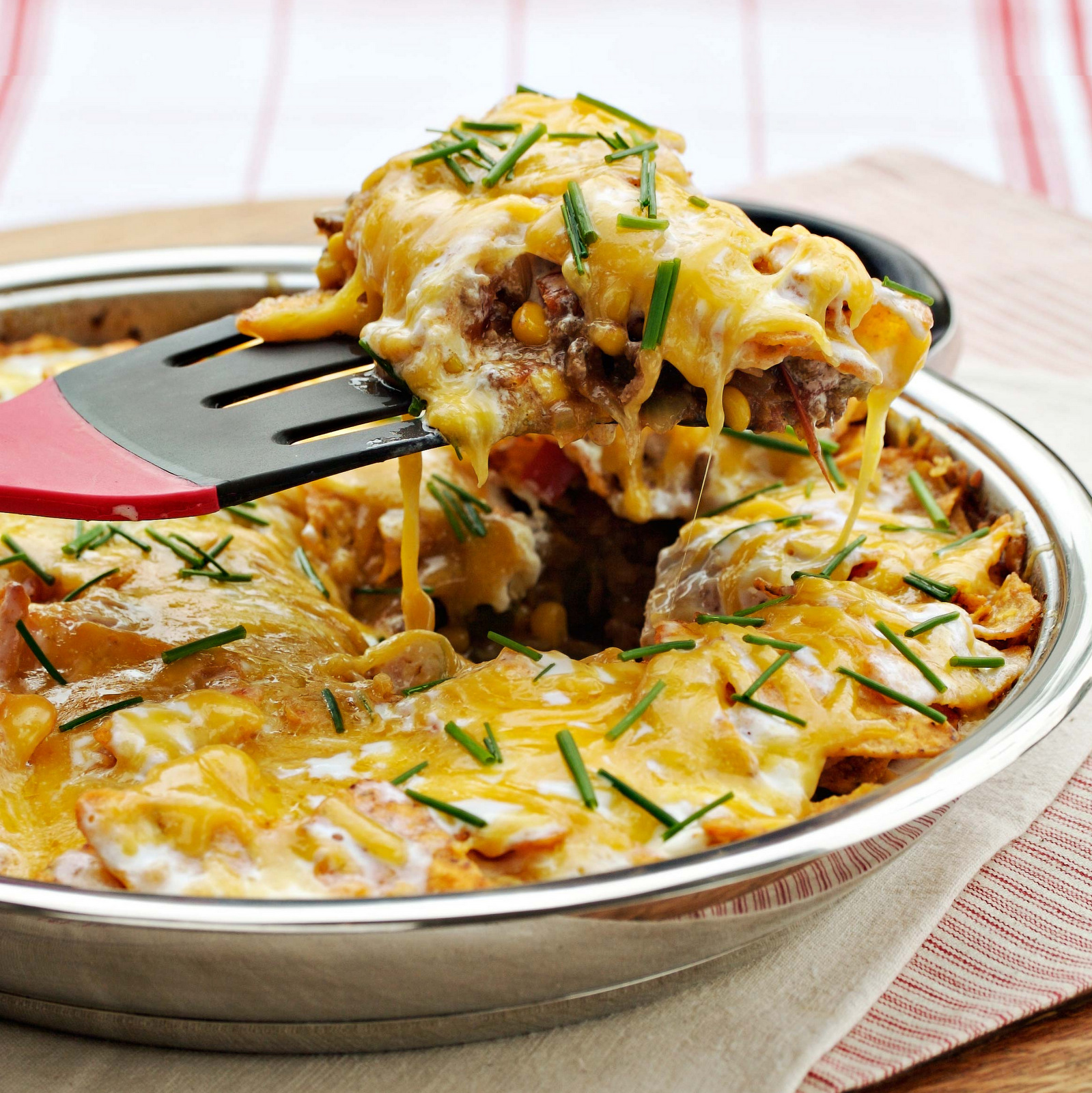 Mexican Corn Casserole
Serves 4 - 6
250 g lean beef mince
1 onion, chopped
2 cloves of garlic, crushed
½ each red and green pepper, seeded and chopped
5 ml curry powder
10 ml ground coriander
2,5 – 5 ml cayenne pepper or 1 small red chilli, seeded and chopped
1 tin (410 g) tomato and onion mix
5 ml sugar
1 tin (310 g) whole kernel corn, well drained
salt and freshly ground black pepper to taste
100 g plain or spicy corn chips
1 cup sour cream or Bulgarian yoghurt
1 cup (100 g) cheddar cheese, coarsely grated
75 ml fresh, chopped chives or parsley
Method
Heat an AMC 28 cm Chef's Pan or 24 cm Synergy Fry Pan over a medium temperature until the Visiotherm reaches the first red area. Brown the mince and then spoon out and set aside.
Add onion, garlic and peppers to the unit and sauté until soft. Add spices and sauté for 2 – 3 minutes.
Add tomato mix, vinegar and sugar and mix though. Add the mince to the mixture, reduce the heat to a lower setting and simmer without the lid for 10 – 12 minutes or until mince is cooked and all the liquid has evaporated.
Add corn, season to taste with salt and pepper and mix through. Cover unit with lid and heat through until Visiotherm reaches first red area again.
Layer the chips on top of the mixture and pour sour cream or yoghurt over. Sprinkle with cheese and cover with lid. Remove unit from stove-plate and allow cheese to melt. It will take about 5 minutes
Sprinkle with chives or parsley and serve immediately. Serve with slices of avocado when in season or with a green salad or a fruit platter.
Variations:
To serve as a vegetarian dish omit the mince, curry powder and coriander and prepare as above, adding small brinjal cubes in step 2.
Prepare in AMC Gourmet or Synergy cookware and pop under the grill in step 5 for a delicious grilled cheese topping.
Share this spicy corn casserole!