Nectarine and blue cheese salad
23 October 2015 / Posted in
Salads
When nectarines are in season, I inevitably feel the need to make this delicious salad. The different flavours in this salad complement one another beautifully and it is so pretty to serve to guests. Delicious as a side with roast chicken or even as a starter with bread of your choice.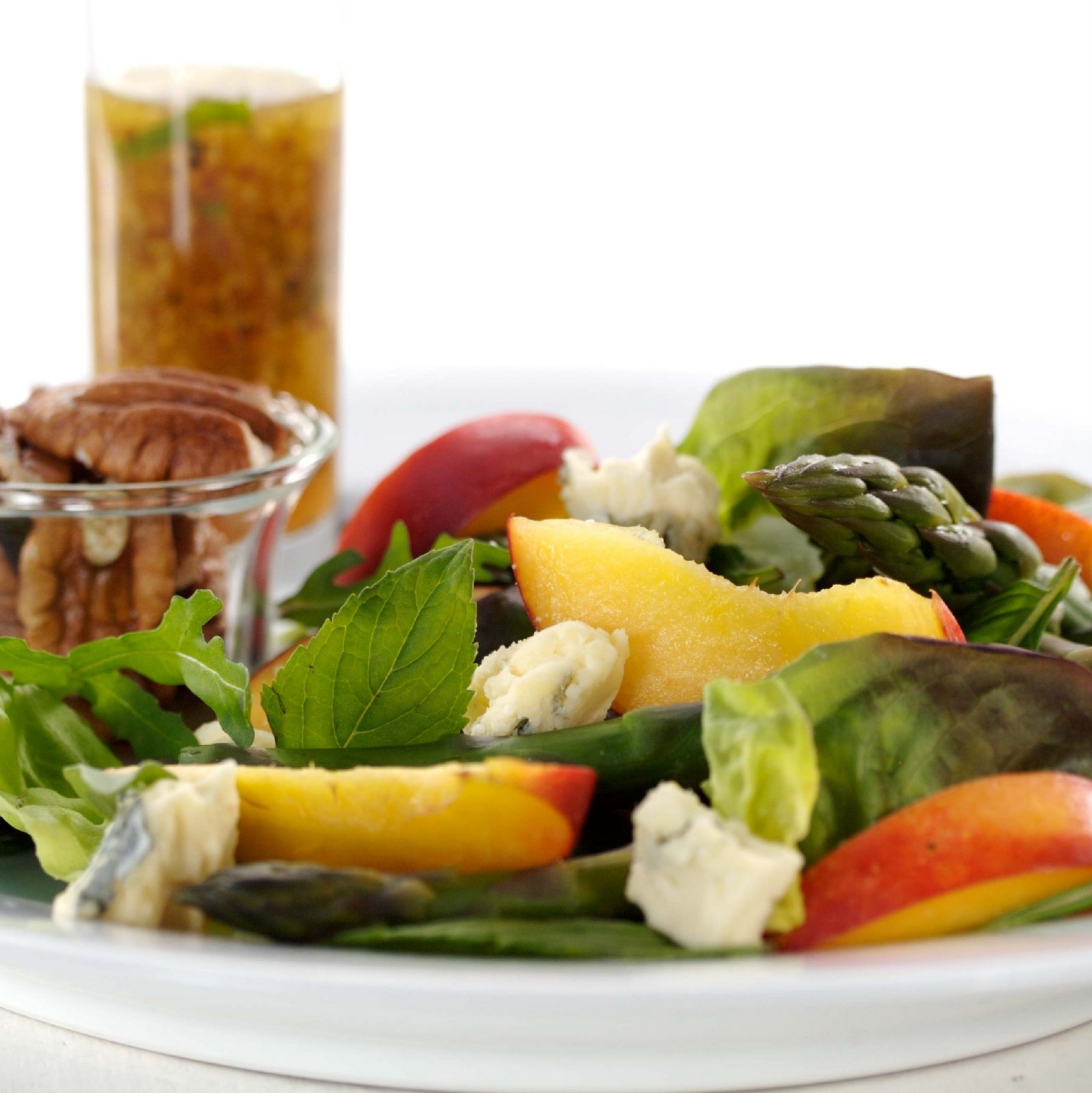 Nectarine and blue cheese salad
Serves 4 - 6
Dressing:
50 ml olive oil
30 ml apple cider or raspberry vinegar
20 ml honey
10 ml mild wholegrain mustard
salt and freshly ground black pepper to taste
5 large fresh mint leaves, thinly sliced
Salad:
150 g asparagus, well washed
50 g pecan nuts or roasted flaked almonds or 50 - 75 ml roasted sunflower seeds
120 - 150 g mixed lettuce, baby spinach or herbs, such as rocket and watercress
4 - 6 firm, but ripe nectarines, sliced into thin wedges
50 g blue cheese or goat's cheese, coarsely crumbled
40 - 50 fresh mint leaves
Method:
Dressing: Whisk all the ingredients (except the mint) together and season to taste. Gently stir in mint and leave to stand for 15 - 20 minutes.
Meanwhile prepare the salad. Place asparagus in an AMC Dome and pour boiling water over. Leave to stand for 5 - 10 minutes, depending on their thickness and drain. Immediately pour cold water over, leave to cool for a few minutes and drain very well.
Assemble salad by layering all the ingredients together. Serve with the dressing.
Tips & variations:
If asparagus is unavailable or too expensive, I often substitute it with blanched green beans or broccoli florets.
To roast almonds or seeds: Preheat an AMC 24 cm Chef's Pan over a medium temperature until the Visiotherm reaches the first red area. Place nuts or seeds in unit and toss to gently roast. Take care as they burn easily.
Add strips of roasted chicken and serve as a light meal. Alternatively, marinate chicken in some of the dressing, pan-fry and slice. Allow to cool and add to salad.
Substitute nectarines with yellow cling peaches, mango or even grapes.
Share this nectarine and blue cheese salad!