Pan-fried mushrooms with bacon and spinach
When sautéing mushrooms you want to hear them squeal or cry, then you know your pan is warm enough! Also avoid overcrowding the pan with too many mushrooms, you want them to brown nicely. AMC Brand Ambassador Heleen Meyer shared this easy mushroom meal with us; serve as a light meal, brunch or even breakfast.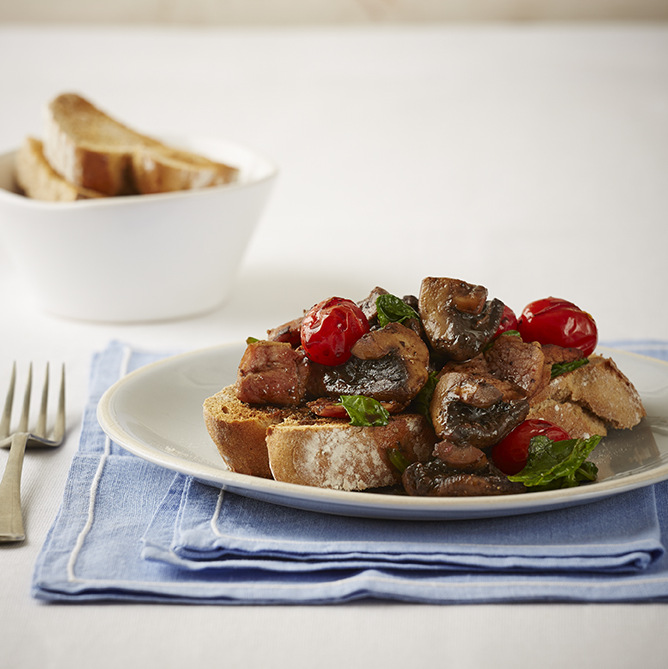 Pan-fried mushrooms with bacon & spinach
Serves 4 - 6
250 g bacon, cut into thick strips and excess fat removed
250 g brown mushrooms, quartered
200 g cherry tomatoes
30 ml balsamic vinegar
salt and freshly ground black pepper to taste
100 g baby spinach
Method
Heat an AMC 28 cm Chef's Pan or 24 cm Synergy Fry Pan over a medium temperature until the Visiotherm reaches the first red area. Fry bacon until golden brown and crispy. Spoon out and set aside.
In the same pan sauté mushrooms until golden brown. Add tomatoes and sauté until heated through and the skins begin to burst. Reduce the heat.
Add balsamic vinegar and stir in the bacon. Simmer until heated through. If the pan becomes too hot, remove from the heat for a few minutes.
Season to taste. Stir in the spinach and make sure it is well coated with the pan juices.The spinach may look too much at first, but will cook down.
As soon as the spinach starts to wilt, remove from the heat. Don't let the spinach overcook. Serve immediately with bread or toast and a little olive oil.
Tips:
For a more filling meal, serve with fried or poached eggs, or serve the veggies on French toast.
Stir the veggies and bacon into pasta for a light supper.
For a vegetarian meal, omit the bacon and keep the mushrooms whole. Serve the mushrooms and other veggies on a burger bun and use the uncooked spinach as the lettuce.
Recipes from Make five, by Heleen Meyer, published by NB Publishers, photographs by Neville Lockhart.
Share these moreish mushrooms!