Pancakes
24 August 2015 / Posted in
Sweets
Baking pancakes in AMC is so easy to do, and makes you look like an absolute pro! We have often heard from customers that they can't bake pancakes in their cookware and need to buy a special pancake pan. If that is you, try this recipe below and see how simple it really is. This recipe makes our favourite pancake batter and bakes beautifully – serve with cinnamon sugar and a squeeze of lemon or a savoury filling of your choice. Watch how to make pancakes here.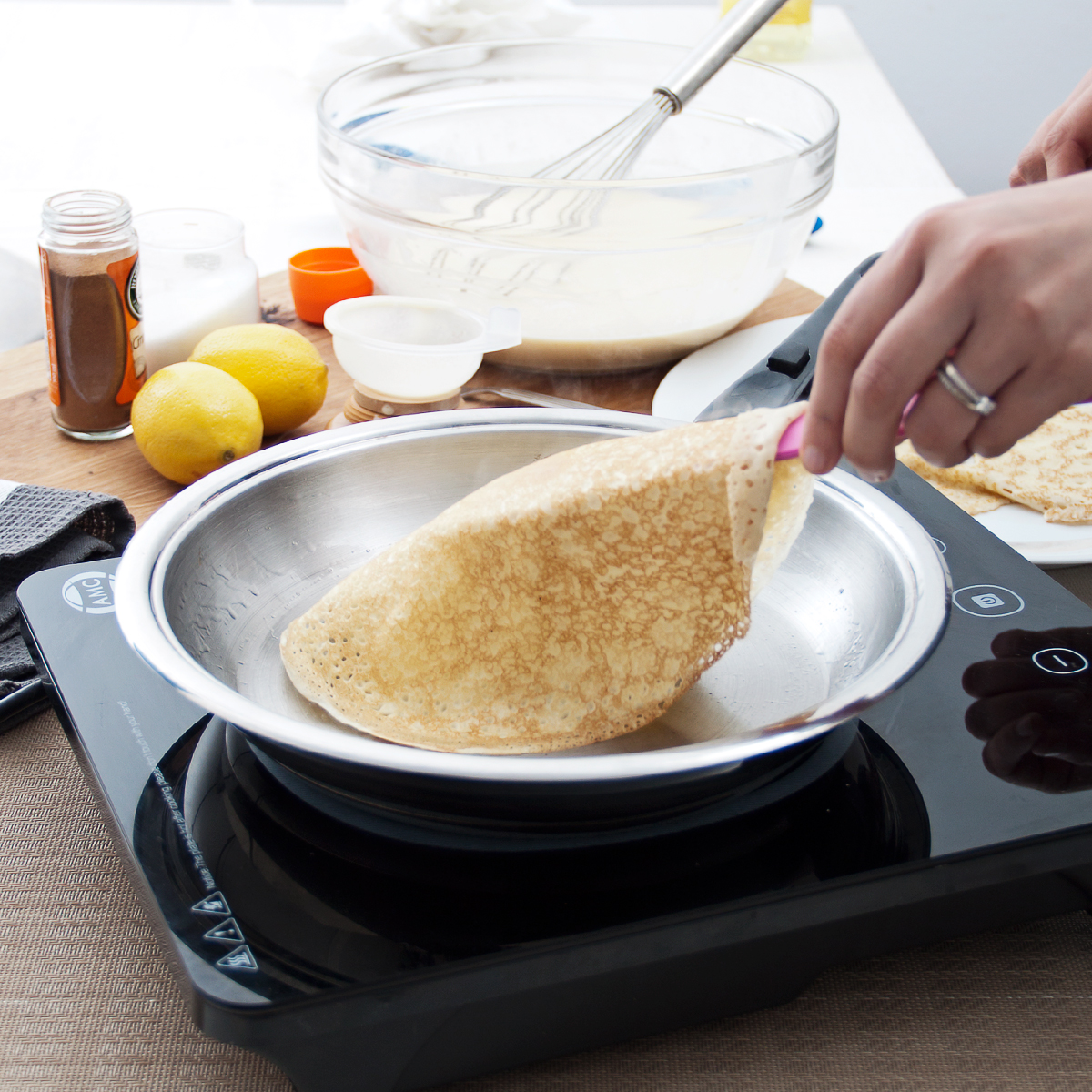 Pancakes
Makes 10 - 12 pancakes
1 cup (140 g) cake flour
2 ml salt
3 eggs, beaten
50 ml oil
325 ml milk
50 ml cold water
oil for frying
Sieve dry ingredients together in a glass bowl. Beat eggs and oil together and stir with a whisk into dry ingredients until it forms a smooth paste.
Mix milk and water and gradually add a little liquid to egg mixture, beating well after each addition. Don't add all the liquid at once - it could form lumps. Continue until all the liquid has been added then if possible, leave batter to stand for 10 - 15 minutes.
Preheat an AMC 24 cm Chef's Pan over a medium temperature until the Visiotherm reaches the first red area. Lightly oil the base of the unit with 5 ml oil.
Pour about 60 ml of batter onto base and turn unit to spread batter evenly. Bake until golden brown underneath and the edge starts pulling away from the sides before turning pancake over. Take care as the pancakes turn brown quite quickly.
Bake for only 1 minute or even less on the other side, otherwise it becomes tough and rubbery. Turn pancake onto a plate or into an empty AMC 20 cm unit. Cover with AMC lid to keep pancakes warm while continuing to bake the rest of the batter.
Pancake making tips:
This batter can be left to stand for up to 30 minutes before pancakes are baked. If it becomes too thick for baking, just stir in a little water to thin.
Don't bake these pancakes too thick as they will become rubbery. Wafer thin pancakes can be baked with this batter.
Ideal to use for sweet pancakes. Add 30 - 45 ml of either of the following to the batter for sweet pancakes depending on the filling used: ground nuts, poppy seeds or desiccated coconut. Or add 15 ml fresh, grated lemon or orange rind to batter.
Share the easiest pancakes ever!