Samp and cheese
This recipe is our twist on a traditional mac and cheese, using samp instead of pasta. Such a simple recipe, comforting and full of flavour –perfect for cooler winter weather. If you have any leftover cooked samp in the kitchen, this meal can be prepared in minutes for dinner.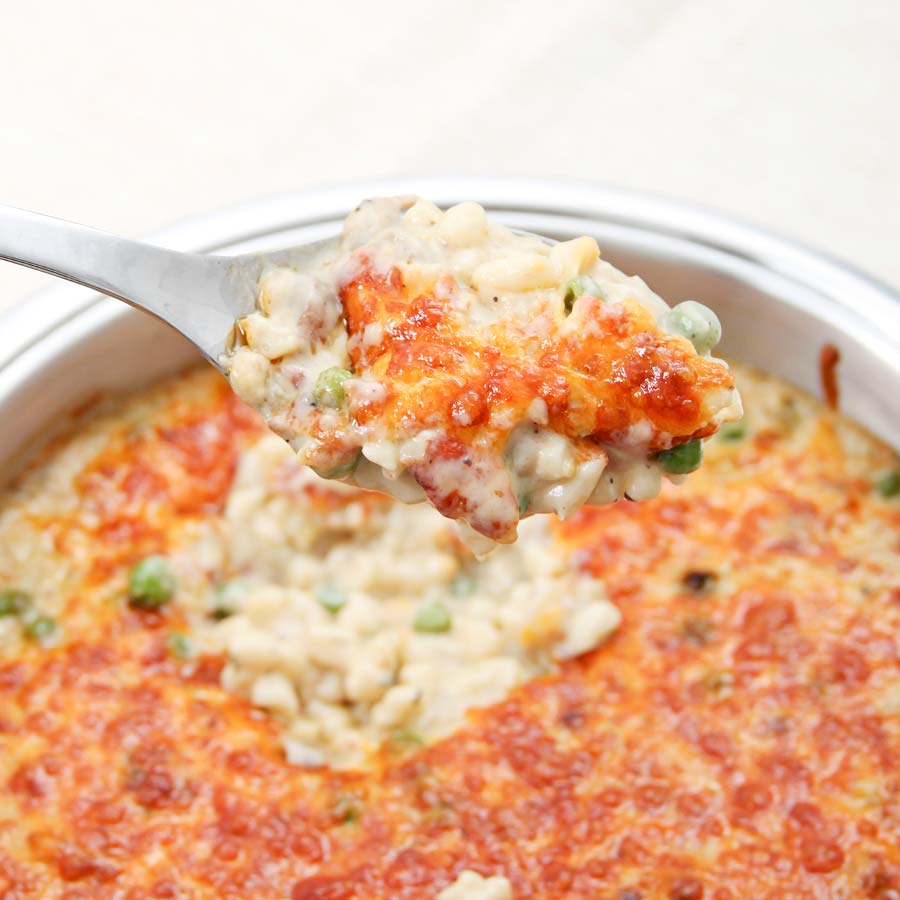 Samp and cheese
Serves 4 - 6
500 ml uncooked/dry samp
1 medium onion, chopped
1 clove of garlic, crushed
250 g mushrooms, sliced
2 - 3 russians or other spicy sausages, sliced
10 ml dried mixed herbs
60 g butter
60 ml cake flour
650 ml milk
250 ml cheddar cheese, grated
250 ml frozen peas, rinsed
salt and freshly ground black pepper to taste
Place samp in an AMC 20 cm Dome and cover with water to soak overnight.
Rinse and place in an AMC 20 cm Gourmet Low and cover with fresh water, season with salt. Cover unit with lid and heat over a medium temperature until the Visiotherm reaches the first red area. Reduce heat and allow to cook for 40 minutes or until samp is soft. Drain, rinse and set aside.
Preheat oven to 200°C. Once heated, set the oven to grill.
Meanwhile heat an AMC 24 cm Gourmet Roaster or 30 cm Synergy Roaster over a medium temperature until the Visiotherm reaches the first red area. Brown onion and garlic for a few minutes before adding mushrooms and russians. Cook until mushrooms are soft, then mix through dried herbs.
Add butter and allow to melt before stirring in the flour. Cook for a few minutes, slowly adding the milk, stirring to avoid lumps. Continue stirring until sauce thickens. Add half the cheese and mix through, season to taste.
Stir in samp and peas. Top with remaining cheese and place in the oven to grill until golden brown. Serve with salad.
Tips & variations:
Boil extra samp and freeze portions. Defrost portions when you want to make this recipefor a quick midweek meal.
Omit russians and replace with vegetables of your choice for a vegetarian option.
Substitute russians with bacon or leftover chicken.
Share this samp & cheese!