Spicy potato salad
13 December 2017 / Posted in
Salads
Want to try a new salad but don't know where to start. We've taken the traditional potato salad and given it a bit of a tweak by using both baby and sweet potatoes as well as adding some harissa paste to the sauce. This salad has so many wonderful notes of flavour, you will keep going back for more.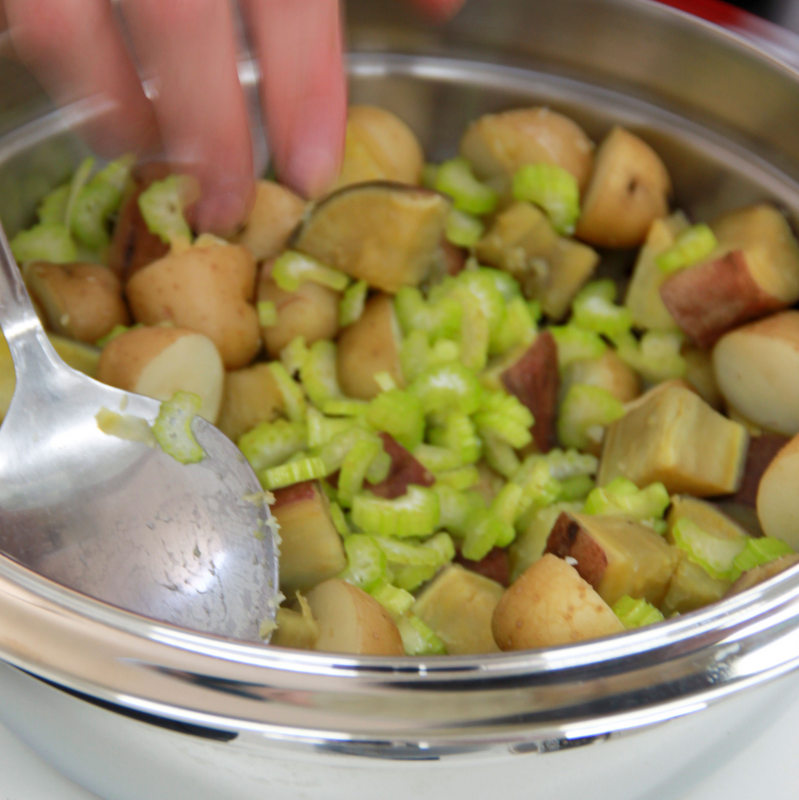 Spicy potato salad
Serves 4 – 6

350 g sweet potato, cut into wedges, with skin on
350 g baby potatoes, halved (and quartered if very big)
200 g bacon, cut into chunks (optional)
50 ml harissa paste
100 ml mayonnaise
150 ml celery, diced (leaves included)
salt and freshly ground black pepper to taste
Method
Wash sweet potatoes and baby potatoes and place dripping wet in an AMC 20 cm Gourmet High. Cover with lid and heat over a medium temperature until the Visiotherm® reaches the first red area. Reduce heat and simmer with lid on for 25 - 30 minutes or until potatoes are tender. Drain any excess liquid from unit, spoon potatoes out and allow to cool.
Heat an AMC 24 or 28 cm Chef's Pan over a medium temperature until the Visiotherm® reaches the first red area. Fry bacon in unit till crispy or done to your preference and set aside.
Meanwhile, mix the harissa paste with the mayonnaise.
Coat the potatoes in the mayonnaise dressing and add the bacon and celery to this. Season to taste. Serve as a side with chicken, a braai or even cold meats.
Tips & variations:
This salad can be prepared in advance. Cover the potatoes with half the mayonnaise dressing, and only add the other half before serving.
Add leftover sausage or chicken instead of the bacon, or easily omit the bacon for a vegetarian version.
Substitute half the mayonnaise with Bulgarian yoghurt for a lighter dressing.
Use harissa paste to taste. Some brands of harissa are spicier than others.
Cubed feta can also be added to this salad.
Share this spicy potato salad!