Veggie hot pot
A recipe like this veggie hot pot cooks faster than a stew with meat, especially when tinned chickpeas or beans are used as the plant-based source of protein. The combination of sturdier veggies, like butternut, carrots and potatoes with spices and coconut milk is a hearty and comforting meal. The brinjal cooks to a creamy texture and even if it's not the coldest time of winter anymore, this meal will warm both your heart and tummy. By adjusting the amount of chillies and curry powder, you can determine how spicy you want the dish to be for your family to enjoy. Make sure that the veggies are cut in even sizes, so that they cook in more or less the same time.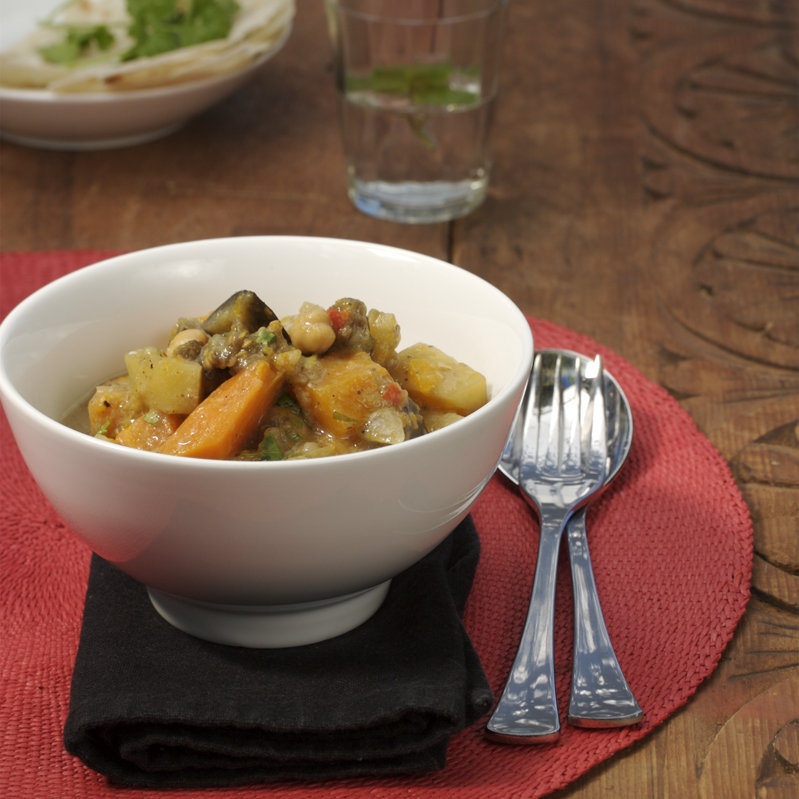 Veggie hot pot
Serves 6 – 8
2 onions, chopped
2 cloves of garlic, crushed
1-2 small red chillies, chopped
3 medium carrots, halved and cut into thick diagonal slices
20 ml mild curry powder
20 ml ground cumin
4 medium potatoes in the skin, cubed or 500 g baby potatoes in the skin, halved
600 g butternut, peeled and cubed
2 medium brinjals, cubed
500 ml strong Rooibos tea
5 ml finely grated lemon rind
1 x 410 g tin chickpeas, drained
salt and freshly ground black pepper to taste
1 x 200 ml tin coconut milk
10 ml lemon juice
50 ml coarsley chopped fresh coriander leaves
extra coriander leaves for serving
Method
Heat an AMC 24 cm Gourmet Roaster or 30 cm Gourmet Paella Pan over a medium temperature until the Visiotherm® reaches the first red area. Add oil and sauté onions, garlic, chillies and carrots for a few minutes.
Add curry powder and cumin and sauté until aromatic.
Stir in potatoes, butternut and brinjal and sauté for a few minutes. Add tea and lemon rind.
Cover with the lid, reduce the heat and simmer for 30-45 minutes or until the veggies are just cooked, but not mushy.
Stir in the chickpeas and heat through. Season to taste and add the rest of the ingredients, except the extra coriander leaves.
Simmer to heat through and serve on its own or on brown basmati rice or couscous with fresh coriander leaves.
Tips
Substitute chickpeas with 1 x 410 g tin butter beans, drained or 250-500 ml (1-2 cups) cooked lentils. Sweet potatoes could also be used instead of the potatoes
If you don't have coconut milk, try this: mix 200 ml milk with 30-45 ml (2-3 tbsp) desiccated coconut and allow to stand for at least 20 minutes and add as above. The consistency may be slightly thinner, but just as delicious.
If preferred, use the liquid from the chickpea tin and top it up with Rooibos tea, to make up the 500 ml (2 cups) liquid.
Simmer ingredients in an even layer, it allows the ingredients to be immersed in the liquid so that they absorb all the flavour.
Credit
Recipe from Kosblik
Photographs from Heleen Meyer
Facebook link: http://www.facebook.com/HeleenMeyerFood
Share this veggie hot pot!