AMC 30 cm Electric Frying Pan Leaflet
The AMC 30 cm Electric Frying Pan makes cooking a pleasure. An entire meal can be cooked under one lid and food can be roasted, baked, steamed, braised, stewed, poached, sautéed or fried. The Electric Frying Pan is also ideal for casseroles and one dish meals. Added to this, AMC's electrified cookware also uses less electricity than conventional cookware – ensuring you'll save costs in the kitchen.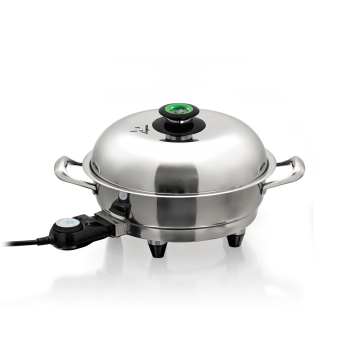 The dome-shaped lid of the Electric Frying Pan enables you're to cook bigger cuts of meat. This unit also has an adjustable vent in the lid that allows excess steam to escape when necessary. Lastly, the electric probe ensures a constant temperature throughout the cooking process.
Care & cleaning
Before using your Electric Frying Pan for the first time, wash the unit in hot soapy water using a soft cloth or a non-scratch sponge. The unit should not be completely immersed in water. If the socket area comes into contact with water, make sure that it is dried thoroughly before using again. The electric probe must never be immersed in water.
After cooking, clean the AMC Electric Frying Pan with hot soapy water and dry immediately to prevent water marks from forming and to maintain the polish and shine. AMC Classic Cleaner, our cleaning paste, is ideal for cleaning purposes. The inside and outside of the unit must never be washed with a scourer or hard sponge.
Practical tips
Always preheat the unit over a MEDIUM temperature. Don't start cooking over a high temperature as this could burn the food.
Sautéing or frying ingredients: Preheat the empty unit with probe on 6, until the Visiotherm® reaches the first red area. Sauté or fry your ingredients, adding oil only if necessary. Maintain the probe setting until sautéing is completed, then reduce the heat once covered with a lid.
Cooking rice or vegetables: Preheat the cold unit with the food in it, with probe on 6 until the Visiotherm® reaches the first red area. Then reduce the heat to 4 on the probe for the duration of the cooking process, depending on the type and quantity of food. The indicator on the Visiotherm® should be between the 1 – 2 o' clock position, indicating the optimum cooking temperature, so adjust the probe setting accordingly.
Share the AMC Electric Frying Pan Leaflet