Breakfast fritter stack
If you're tired of cooking bacon and eggs for breakfast or brunch, these breakfast fritters are a great alternative. We've adapted them from a Bill Granger recipe, with added red pepper, lots of herbs and smoked paprika for extra kick. These fritters are sure to become your breakfast favourite!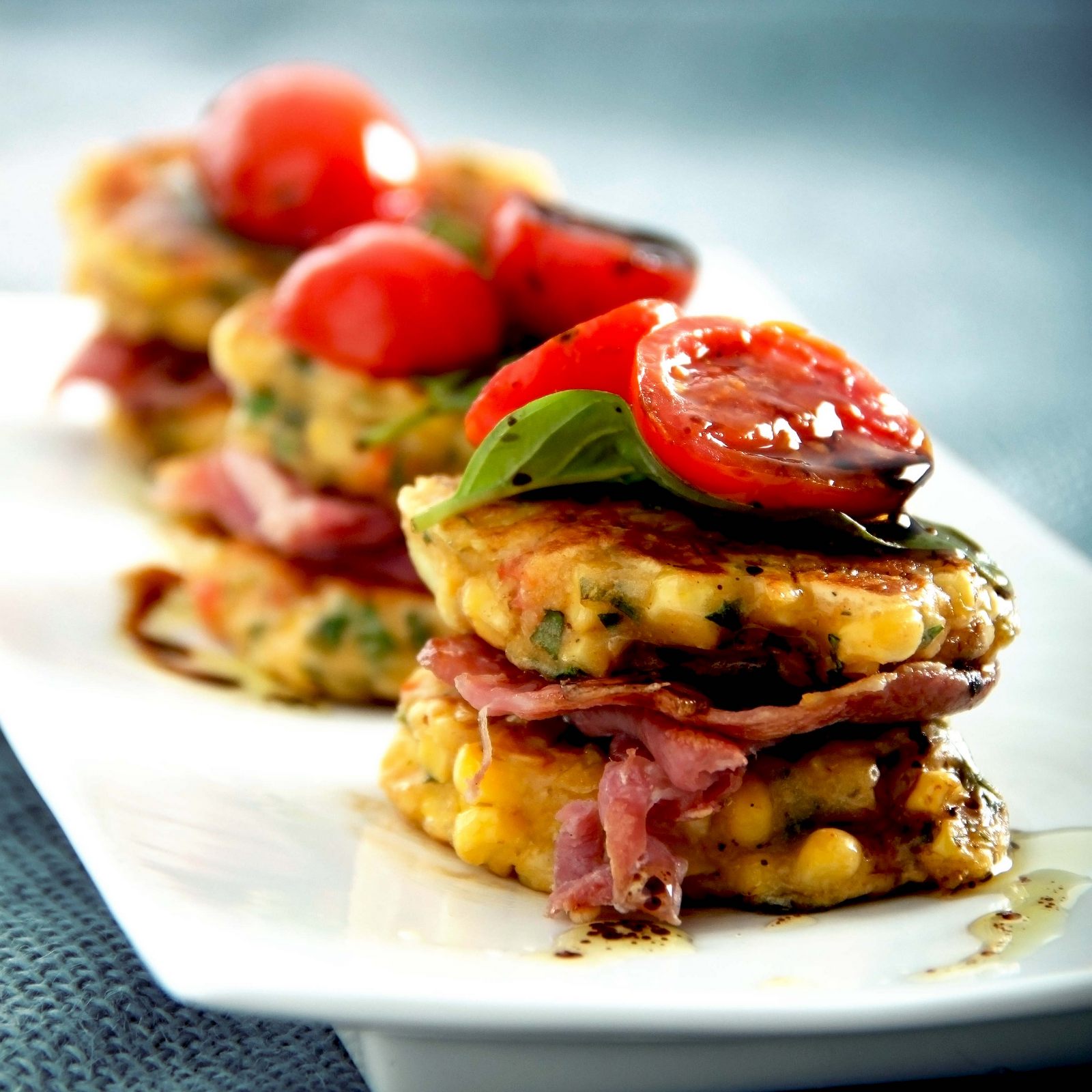 Breakfast fritter stack
Serves 4
Fritter:
140 g (250 ml) cake flour
5 ml baking powder
1,25 ml smoked paprika, or more to taste
10 ml sugar
2 extra large eggs
125 ml milk
2 whole sweetcorn, corn cut from the cob (about 500 ml corn kernels)
½ red pepper, finely chopped
3 spring onions, sliced
30 ml fresh, chopped basil
30 ml fresh, chopped Italian parsley
salt and freshly ground black pepper to taste
30 - 45 ml oil, for frying
To serve:
250 g bacon (optional)
200 g baby tomatoes, halved
30 ml balsamic vinegar
30 ml olive oil
fresh basil leaves for garnish
Method
Sift the flour, baking powder and paprika into a large bowl. Stir in the sugar and make a well in the centre.
In a separate bowl combine eggs and milk. Gradually add the egg mixture to the dry ingredients and whisk until you have a smooth batter – the batter will be quite stiff. Add the corn, red pepper, spring onions and herbs to the batter and mix through. Season to taste with salt and pepper, adding more paprika if preferred.
Heat an AMC 28 cm Chef's Pan or Electric Frying Pan over a medium heat (probe on 6) until the Visiotherm reaches the first red area. Pour enough oil in the unit to coat the base.
Drop large spoonfuls (about 60 ml) of batter onto the base and fry until bubbles start to form. Turn and fry other side until golden brown and cooked through. Remove from unit and keep warm while cooking the remaining fritters. You should have about 8 large fritters.
Meanwhile, heat an AMC 24 cm Chef's Pan over a medium temperature until the Visiotherm reaches the first red area. Fry bacon untill done to your preference then remove. Add baby tomatoes, allowing them to just start sizzling before spooning out. Remove unit from the heat. Add vinegar to loosen bits from the base. Add oil, stir well and season to taste.
To serve: Place a fritter on a plate, top with bacon and cover with a second fritter. Top with fresh basil leaves and tomatoes and drizzle with the vinegar and oil mixture. Serve immediately.
Too delicious not to share: