Brinjal & lentil salad
AMC Brand Ambassador Heleen Meyer shares this delicious recipe from her latest cookbook Make five. Brinjal, also referred to as Eggplant or Aubergine, is the perfect accompaniment to the lentils in this recipe. When fried this veggie becomes soft and velvety. And to make the rosemary stand out in this dish, it's fried with the brinjal and cooked with the lentils too.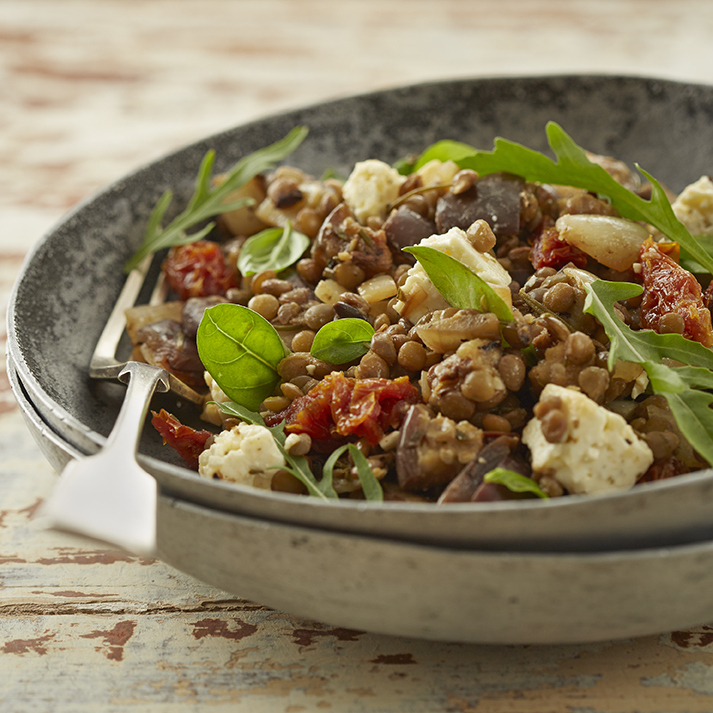 Brinjal & lentil salad
Serves 4 - 6
45 ml oil
1 - 2 medium brinjals, cubed
1 large onion, chopped
15 ml fresh rosemary, chopped
15 ml lemon juice
salt and freshly ground black pepper
250 ml uncooked brown lentils, rinsed
2 extra sprigs rosemary
500 ml water
1 slice feta cheese, cubed
6 marinated sundried tomatoes, sliced
handful fresh rocket and basil leaves
Heat an AMC 24 cm Dome Fry Pan or 24 cm Roaster over a medium temperature until the Visiotherm reaches the first red area. Add 15 ml of the oil and sauté brinjal, onion and rosemary in batches until brinjal is golden brown. Add more oil if necessary. Spoon all the veggies back into the pan and stir in the lemon juice.
Season to taste and cover with a lid. Simmer for 5 - 10 minutes or until cooked. Spoon out and allow to cool.
Place lentils in the same pan with the rosemary sprigs, a pinch of salt and water. Cover with the lid and bring to a boil over medium heat. Reduce the heat and simmer for 30 minutes or until cooked.
Remove rosemary and drain lentils. Rinse with cold water to prevent it from cooking any further.
Gently stir lentils into the brinjal mixture. Stir in the cheese, sundried tomatoes and herbs, then season to taste. Serve cold or at room temperature.
Tips:
If you're short on time, substitute uncooked lentils with 2 x 410 g tins brown lentils. Drain and rinse with water. Add to the brinjal with the rest of the ingredients in step 5.
Substitute feta cheese with goats' milk cheese or serve with spoonfuls of yoghurt and mint leaves.
When pomegranates are in season, substitute sundried tomatoes with pomegranate pips.