Cauli-rice chicken breyani
Cauliflower is such a versatile vegetable and often used as a substitute for rice in low carbohydrate diets. We tried using it in breyani and found it to be quick weeknight recipe, high in nutrient value and flavour!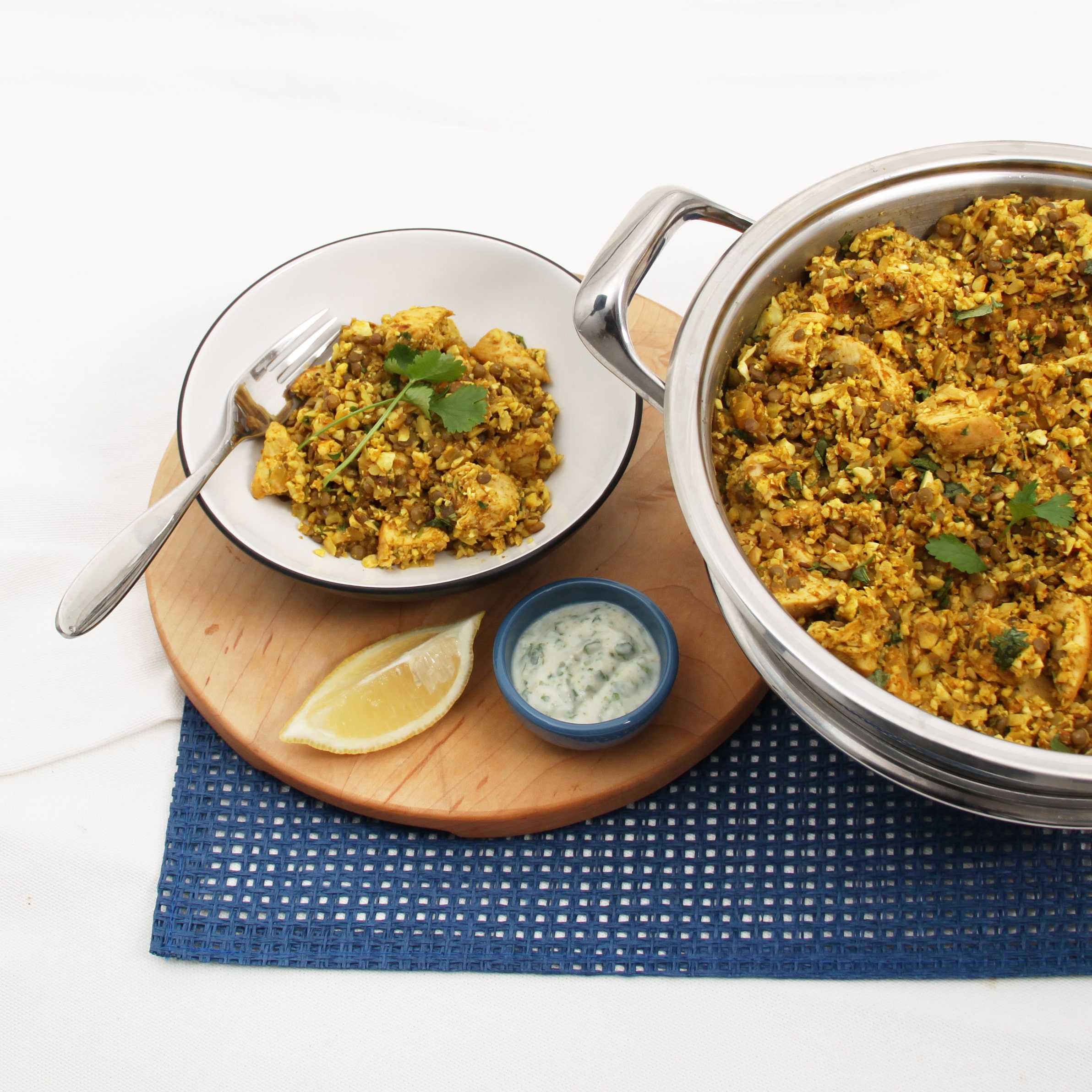 cauli-rice chicken breyani
Serves 4 - 6

5 ml oil for frying
4 chicken breast fillets
salt and freshly ground black pepper
1 onion, chopped
2 cloves of garlic, crushed
20 ml curry powder
10 ml turmeric
1 each stick cinnamon and bay leaf
3 cardamom pods, lightly crushed
10 ml each ground coriander and cumin seeds
1.5 medium heads of cauliflower, cut into florets and pulsed in a food processor (or finely chopped)
100 ml stock or water
250 ml cooked lentils
5 ml garam masala
squeeze of lemon
freshly chopped coriander to taste
sliced boiled eggs, tomato salsa and/or almond slivers to serve (optional)
Method
Heat an AMC 24 cm Gourmet Roaster or 30 cm Electric Frying Pan over a medium heat (probe on 6), until the Visiotherm reaches the first red area.
Spread the oil over the base of the unit and brown chicken breasts on both sides, while seasoning to taste. Once browned, cover with lid, reduce heat and cook for 5 - 7 minutes until chicken breasts are cooked through but still tender. Remove from unit and leave to cool slightly before slicing into small cubes.
Increase the heat and sauté the onion. Once softened, add the garlic and spices and sauté for a few more minutes until fragrant.
Add cauliflower, stock, chicken and lentils to unit, cover with lid, reduce heat and cook for 5 minutes or until cauliflower is tender.
Season to taste with salt and pepper, garam masala and lemon juice. Mix through coriander. Serve with sliced eggs, tomato salsa and garnished with almond slivers and any additional coriander.
Tips:
For more heat, add one seeded and chopped chilli with the garlic and spices.
Omit lentils for a full paleo recipe.
To make cauliflower rice, place florets in a food processor and pulse for a few minutes.
Share this low carb chicken breyani