Chicken à la king pie
Who wouldn't want to cook this beautiful chicken à la king pot pie for supper. Fellow blogger Carey Boucher Erasmus at Bits of Carey definitely ticks all the boxes with this meal. Chicken à la king pie - yes please! I always try to keep dirty dishes to a minimium, and in this recipe Carey uses our Gourmet cookware that goes from the stove straight to the oven. Perfect.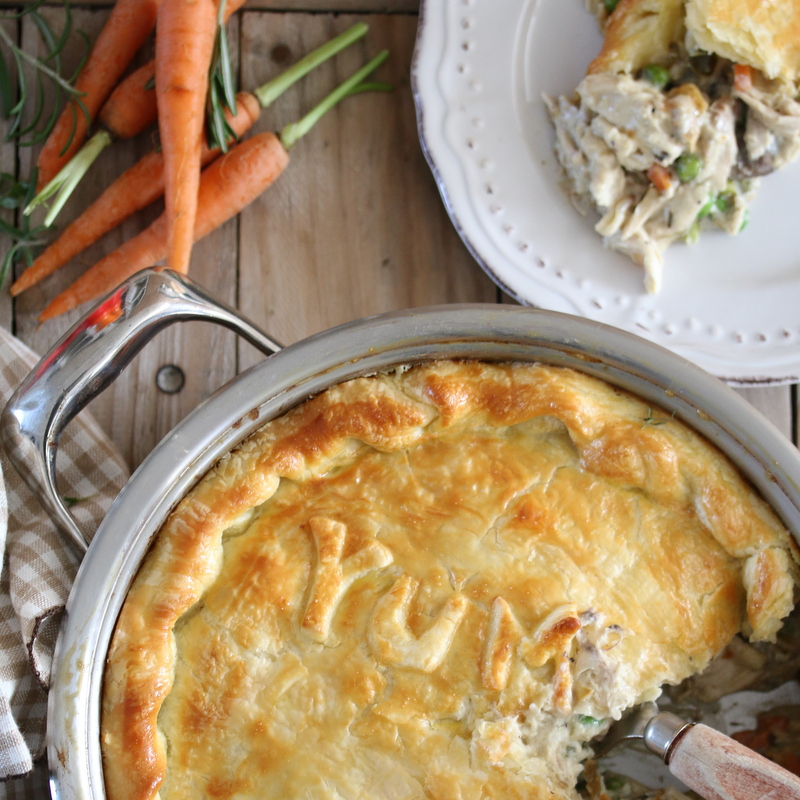 chicken à la king pie
1 medium chicken
2 celery with leaves, roughly chopped
5 bay leaves
1 sprig fresh rosemary
15 ml dried thyme
750 ml chicken stock
45 g butter
1 onion, finely chopped
2 medium carrots, peeled and diced
1 small green pepper, finely chopped
250 g brown mushrooms, thickly sliced
125 ml dry white wine or extra chicken stock
50 ml cake flour
250 ml sour cream or cream
250 ml frozen peas, rinsed under water
salt and freshly ground black pepper
400 g frozen puff pastry, thawed
1 egg, beaten
Method
Place the chicken, celery, herbs and stock in an AMC 24 cm Dome Gourmet Fry Pan (alternatively use your AMC Gourmet 24 cm High). Cover with an inverted AMC 24 cm Dome and position an unscrewed Visiotherm on the base of your Dome.
Heat over a medium temperature until the Visiotherm reaches the first red area. Reduce heat and cook for 45 to 60 minutes until chicken falls off the bone.
Remove chicken from the stock, allow to cool. Remove all meat from the bones and tear into bite size pieces. Discard the bones and skin. Strain the stock, reserving 250 ml to use later. Preheat the oven to 200°C.
Meanwhile reheat the Gourmet Frying Pan over a medium heat until the Visiotherm reaches the first red area. Add butter and sauté onion, carrot and green pepper until fragrant and softened. Add mushrooms and fry until almost cooked.
Add wine or stock and allow to reduce slightly before adding flour. Stir in the reserved stock (step 3) and sour cream. Simmer uncovered until thickened (should only take about 10 minutes). Add the peas and shredded chicken and allow to heat through for a few minutes. Season with salt and freshly ground pepper. Allow to cool for 15 minutes.
Arrange the pastry snug over the cooled filling. Make a cross incision in the center to allow the air to escape. Brush with beaten egg and for a personal touch, use leftover pastry to decorate. Bake for 25 - 30 minutes or until pastry is puffed and golden. Serve with a seasonal salad on the side.
Tips & variations:
Freeze leftover stock in ice trays and use for soups and sauces.
For good old chicken à la king, add another cup of stock for more sauciness and serve with fluffy white rice.
Remember to wipe off any fatty residue on the rim of your Gourmet Fry Pan before placing it in the oven.
Cookware that we used in this recipe: