Curried meatballs
Lethabo's curried meatballs are quick to make and delicious to eat! Perfect for a quick Saturday lunch or a weekday meal. Be sure to watch the video for a step-by-step guide.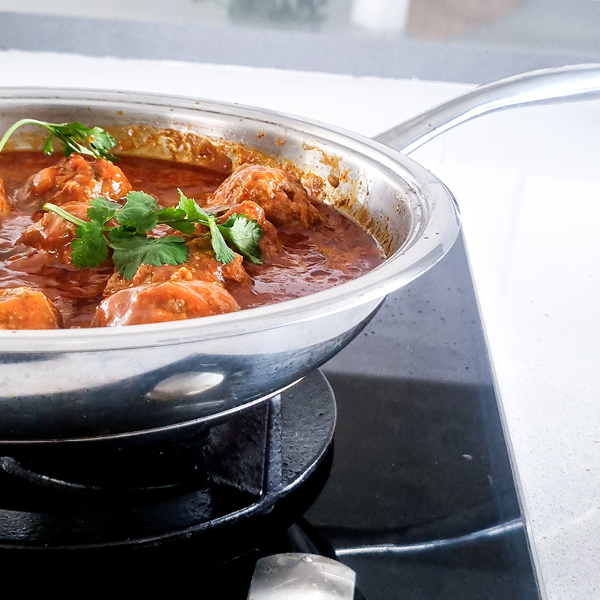 INGREDIENTS
500g mince meat
1 tbsp paprika
1 tbsp masala spice
1 tbsp steak & chops spice
Salt & pepper to taste
1 medium onion finely chopped
1/2 cup chopped coriander
1 slice brown bread (soaked in milk)
2 small eggs
30 ml oil for frying
400g curry cook-in sauce (Here you can use any pre-mixed curry sauce of your choice)
Method
In a 24 cm AMC Dome (or large mixing bowl) add mince, spices, onion, coriander, soaked bread and two eggs.
Use your hands to mix all the ingredients together. Make sure it is well mixed.
Using an ice cream scoop roll the meat mixture into small balls ensuring they are all consistent in size.
Heat an AMC 24 cm or 28 cm Chef's Pan over a medium temperature until the Visiotherm reaches the first red area. Add oil and fry meatballs on both sides until golden brown (roughly 3 minutes a side).
Reduce heat and add curry sauce, cover with lid and let your meatballs cook on a low heat for 15 to 20 minutes. Serve and enjoy!

Tip :To complete the meal, serve with either jasmine rice or naan bread.
download printable recipe