Haddock mornay with green veg
Haddock mornay is a fancy name for poached haddock fillets covered in a cheesy white sauce and baked in the oven. Simply delicious! This particular recipe was inspired by one of our AMC brand ambassadors and fellow blogger, Carey Erasmus. Prepared in an AMC Gourmet unit you cook on your stove, then straight to the oven and on to your table.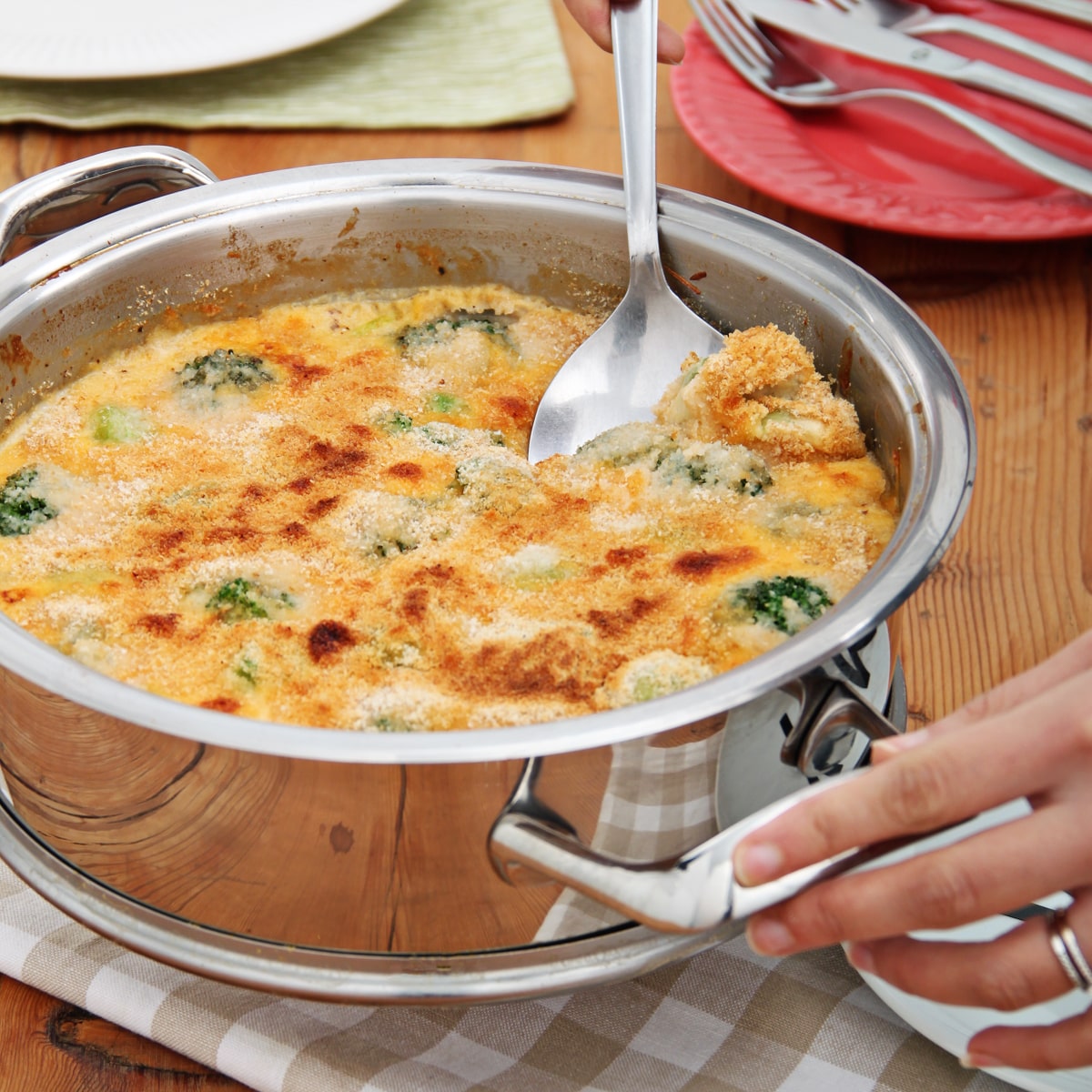 Haddock mornay with green veg
Serves 4

200 g brussel sprouts
200 g broccoli, cut into small florets
700 g haddock fillets, defrosted and patted dry
350 ml milk
350 ml water
1 bay leaf and 5 ml whole black peppercorns
1 onion, halved and sliced
1 clove of garlic, crushed
60 g butter
60 ml cake flour
250 ml mature Cheddar, grated
salt and pepper to taste
125 ml fresh bread crumbs
Method
Place brussel sprouts dripping wet into an AMC 16 cm Gourmet Low. Heat over a medium temperature until the Visiotherm reaches the first red area. Reduce heat to the lowest setting and cook for 15 - 20 minutes, or until brussel sprouts are just tender.
Meanwhile, place broccoli florets in an AMC 20 cm Dome. Cover with boiling water. Once florets are bright green, drain and place in an ice bath. Add the brussel sprouts to this too. (An ice bath is a big bowl of ice cold water – this stops the cooking process.)
Then place haddock, milk, water, bay leaf and peppercorns in an AMC 24 cm Gourmet Roaster. Heat over a medium temperature until the Visiotherm reaches the first red area. Reduce heat and poach for 8 - 10 minutes. Remove fish from unit and reserve poaching liquid, but discard bay leaf and peppercorns.
Turn heat to a medium temperature again and sauté onions in the roaster before adding garlic. Add butter and allow to melt then stir the flour through.
Cook for a few minutes, slowly adding the reserved poaching liquid, stirring to avoid lumps. Continue stirring until sauce thickens. Add half the cheese and mix through, season to taste.
Place fish fillets, brussels sprouts and broccoli in your unit, making sure it's covered by the sauce. Top with remaining cheese and bread crumbs. Place in a preheated oven and grill until golden brown. Serve with a salad or steamed baby potatoes.
Variations:
Use a combination of haddock and hake if preferred.
Add 125 ml cream in step 5 for a richer sauce.
Substitute brussels sprouts and broccoli with wilted spinach or peas.
Cookware that we used in this recipe: