Peanut butter & chicken stir-fry
A stir-fry is such an easy, throw together meal that's great for using up veggies in the fridge. Adding peanut butter to the sauce is a great way to give it a nutty flavour - so raid your fridge, pop open a jar of peanut butter and make this for dinner.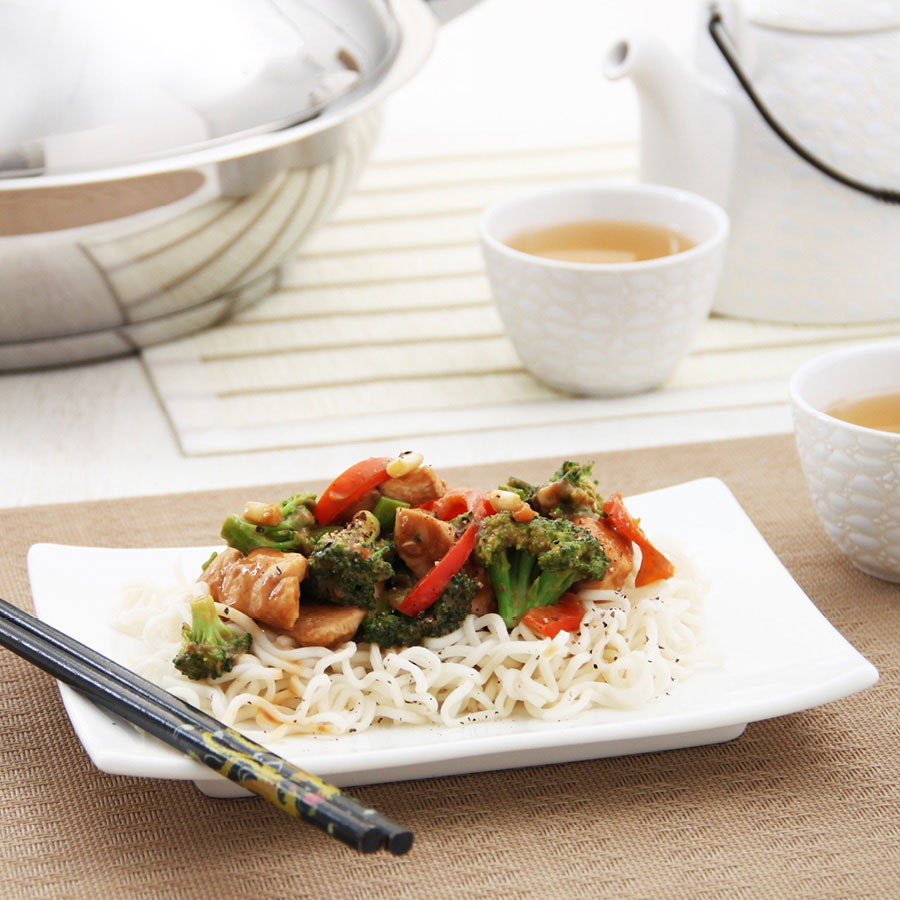 Ingredients
Serves 4
Sauce
40 ml soy sauce
15 ml oyster sauce
50 ml peanut butter
10 ml brown sugar
10 ml corn flour
2 cloves of garlic, crushed
5 ml freshly grated ginger
60 – 80 ml water
Stir-fry
10 - 15 ml peanut oil or other oil of your choice
4 chicken breast fillets, thinly sliced
1 red or yellow pepper, quartered and sliced
300 – 400 g broccoli, cut into florets
4 - 6 spring onions, sliced
freshly ground black pepper
Method
Heat an AMC 30 cm Electric Frying Pan or AMC 30 cm Gourmet Paella over a medium temperature (probe on 6), until the Visiotherm reaches the first red area. Spread oil over base of cookware and fry half of the chicken. Brown on both sides then remove from cookware. Repeat with the rest of the chicken and set aside.
Mix all the sauce ingredients together and set aside.
Sauté the red pepper in the cookware for a few minutes until tender. Add the broccoli and fry for another minute or two before adding the spring onions.
Return the cooked chicken to the stir-fry along with the sauce. Cook for 2 – 3 minutes then remove from heat, the sauce will continue to thicken as it stands.
Season to taste with pepper and serve immediately over egg noodles or basmati rice.
Variations:
Substitute chicken with 500g sliced pork fillet.
Share this blog post now!