Peanut butter & chocolate chip skillet cookie
12 August 2015 / Posted in
Sweets
We tried our hand at making a giant skillet cookie and it turned out so well, that we had to share it almost immediately! This cookie is a cross between a biscuit and brownie in texture and is filled with chocolate pieces, nuts and peanut butter. As I type this I can still smell this sweet flavour in our test kitchen – delicious! Serve this as an easy dessert with a scoop of vanilla ice cream or as a mid-afternoon treat with a glass of milk.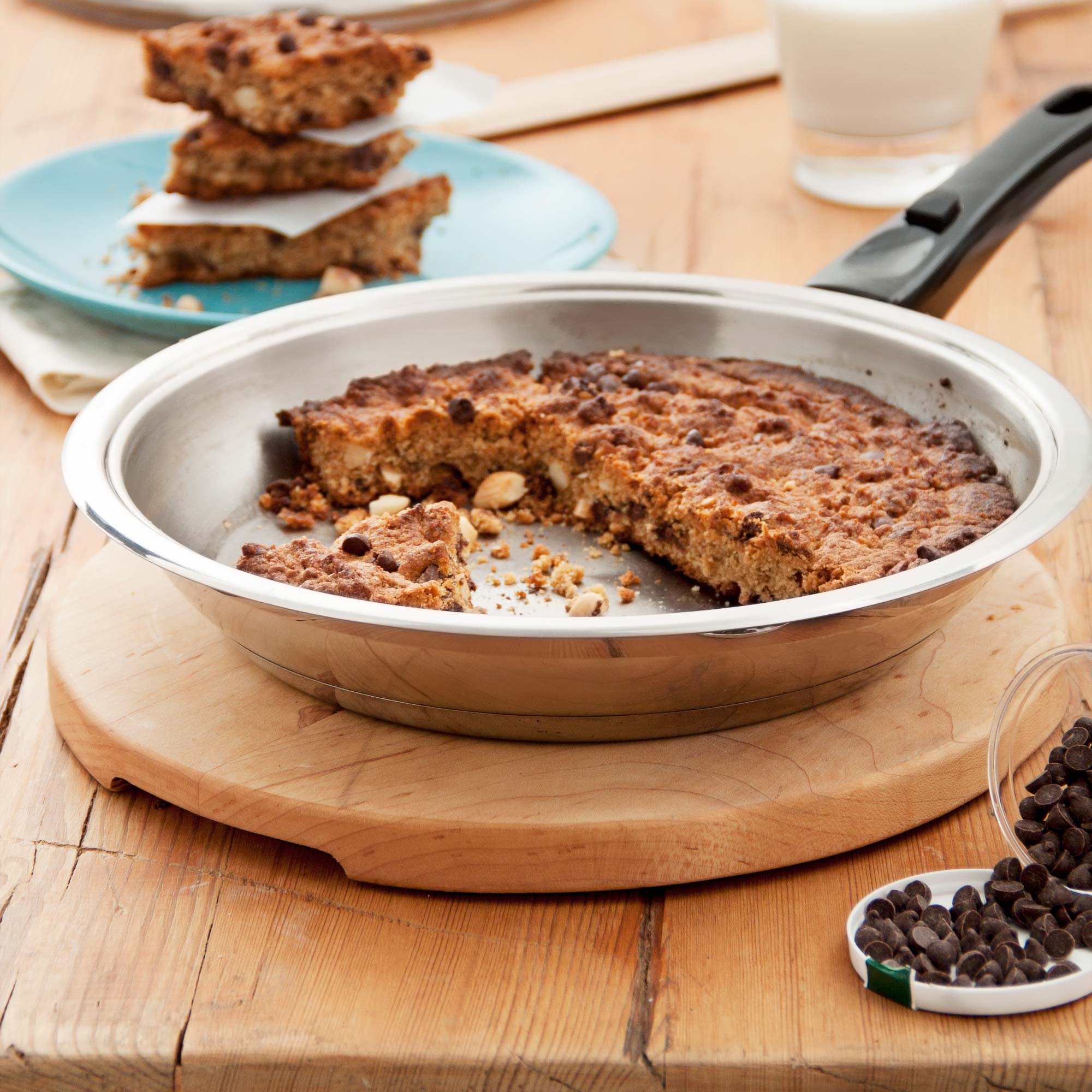 Peanut butter and chocolate chip skillet cookie
Makes 1 x 24 cm cookie
50 g almonds or nuts of your choice, roughly chopped
115 g butter
100 ml peanut butter
90 ml soft brown sugar
90 ml white sugar
1 egg
5 ml vanilla essence
250 ml flour
2,5 ml bicarbonate of soda
2 ml salt
100 g chocolate chips or chocolate pieces
Method
Preheat oven to 180°C.
Heat your AMC 24 cm Chef's Pan over a medium temperature until the Visiotherm® reaches the first red area. Add nuts and toast until golden brown, be careful not to burn them. Remove from unit and set aside until needed.
In an AMC 24 cm Dome whisk 100 g of the butter with the peanut butter, sugars, egg and vanilla essence until smooth.
Sift dry ingredients over creamed mixture before adding toasted nuts and chocolate. Fold through. If the mixture is too stiff stir in 15 ml milk.
Over a medium heat melt the remaining butter in your AMC 24 cm Chef's Pan. Spoon biscuit batter into pan, flatten with the back of a spoon to make an even layer. Top with extra chocolate if desired. Remove the long handle on the Chef's Pan and bake for 30 - 35 minutes in your preheated oven. Test if it is cooked with a toothpick – it should come out clean when tested.
Tips & variations:
When removing the 24 cm Chef's Pan from the oven, please be careful not to burn yourself! Press long black handle back on as soon as you can. If you don't have a 24 cm Chef's Pan, you could try bake this in a small 20 - 24 cm ovenproof pie dish.
If preferred, replace peanut butter with a nut butter of your choice such as macadamia or almond butter.
Substitute chocolate with dollops of jam for a peanut butter and jam cookie. Allow the jam to firm up after taking it out of the oven before slicing. In this instance, reduce the sugar used in the recipe.