Pear and Caramel Pancakes
28 August 2015 / Posted in
Sweets
Pancakes are the easiest treats to prepare and you're almost guaranteed to always have the basic ingredients in your kitchen. Now take them up a notch with this pear and caramel sauce. Light and airy pancakes filled with caramel, a hint of citrus, spices and fresh pears. You will raise the bar with these pancakes!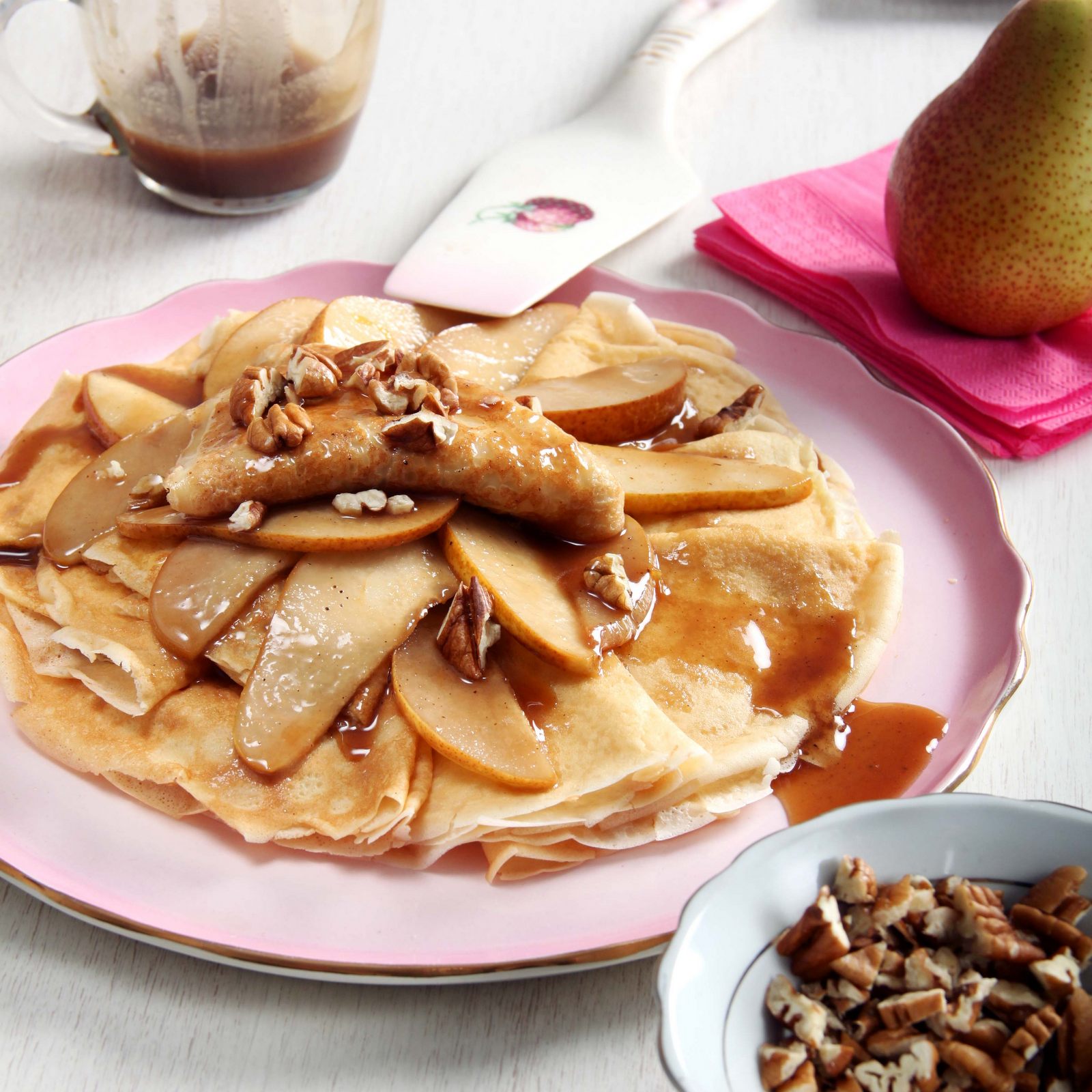 Pear and caramel pancakes
160 g (200 ml) soft brown sugar
100 g (100 ml) butter
200 ml cream
15 ml lemon rind
15 ml lemon juice
5 ml ground allspice
4 - 5 medium pears, quartered and thinly sliced and sprinkled with some extra lemon juice to prevent discolouring
Method
Pancakes:
Bake pancakes and keep warm until filling is ready. See pancake blog post.
Filling:
Place all the ingredients except pears in a 24 cm Fry Pan. Melt together over a low-medium heat while stirring often until blended.
Once sugar has dissolved completely, bring mixture to a slow simmer and allow to simmer without lid over a slightly lower heat for 5 - 10 minutes to thicken slightly.
Add pears and allow to simmer without lid for another 10 minutes or until pears are tender, but not mushy.
Spoon a few pear slices with some sauce onto each pancake and fold in half or in triangles. Place 3 pancakes on a plate and spoon extra sauce around them. Serve with coarsely chopped pecans or hazelnuts and cream, ice cream, Greek or Bulgarian yoghurt.
Tips:
Substitute pears with green apples if preferred.
20 - 30 ml brandy or orange liqueur can be added to the sauce.
Share these decadent pancakes!