Mince & cauliflower casserole
We've created a delicious meal of mince in a rich tomato gravy, topped with a creamy sauce. The slight twist is that we've topped ours with a cauliflower white sauce so that it is banting and paleo friendly, but a traditional béchamel sauce would work too! We've used our homemade tomato sauce from a previous blog post, and bulked up the mince by adding cubes of aubergine to create this healthy midweek meal.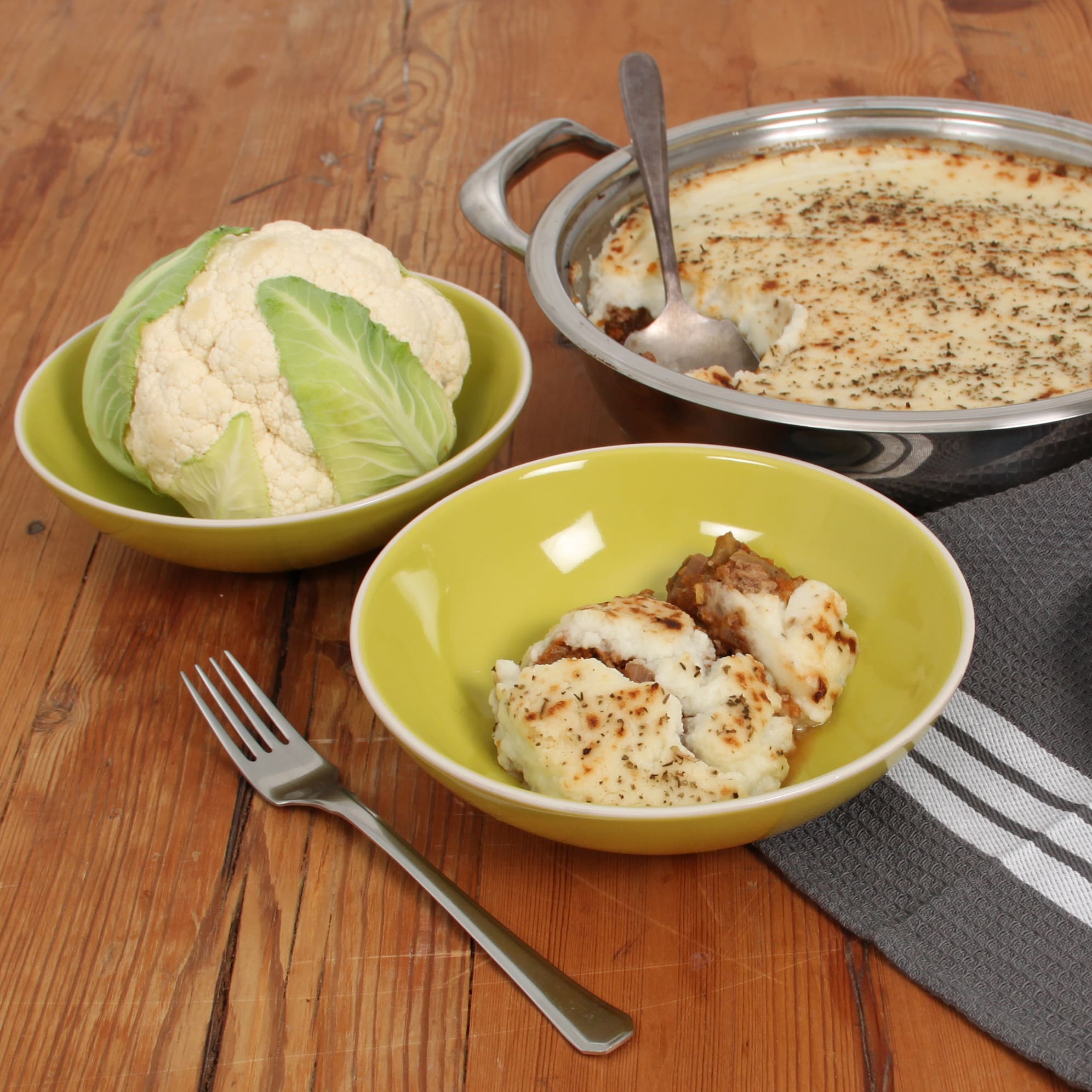 Mince & cauliflower casserole
Serves 4 – 6

500 – 600 g mince
1 onion, chopped
2 cloves of garlic, crushed
1 aubergine, cubed
600 ml ready made tomato sauce (or see tip below)
salt and freshly ground black pepper

Cauliflower white sauce
1 large head of cauliflower, broken into florets
165 ml coconut milk
60 ml water
dried mixed herbs for dusting
Method
Heat an AMC 24 cm Gourmet Roaster or Fry Pan over a medium temperature until the Visiotherm® reaches the first red area. Add half of the mince and brown, remove from unit and continue with remaining mince.
Add onions, sautéing for a few minutes before adding garlic and aubergine cubes. Sauté until soft. Return mince to pan and add tomato sauce. Cook for a few minutes until warm and bubbling.
Meanwhile place cauliflower dripping wet in an AMC 20 cm Gourmet Low. Heat over a medium temperature until the Visiotherm® reaches the first red area. Reduce heat and allow to cook for 7 - 10 minutes or until tender.
Remove cauliflower from the saucepan and place in a food processor with the coconut milk to blend. Add water as needed until you have a saucy consistency. Season to taste.
Pour cauliflower white sauce over mince mixture. Dust with dried herbs and bake for 15 - 20 minutes or until golden brown.
Tips & variations:
Find our homemade tomato sauce recipe here.
Substitute ready made tomato sauce with 1 – 2 tins of tomato puree, 15 ml tomato paste, 10 ml sugar or honey and 7.5 ml dried mix herbs. Add ingredients in step 2; allow to cook through before adding mince.
Top cauliflower sauce with grated cheese of your choice before grilling in the oven.
If you do not have Gourmet AMC cookware, place mince and white sauce in an ovenproof dish to bake.
Share this paleo casserole!