Filled French Toast
A slight twist on simple french toast makes a decadent option for breakfast or brunch. We've created a sweet filling that's then fried in the pan, but you could try a savoury variation too.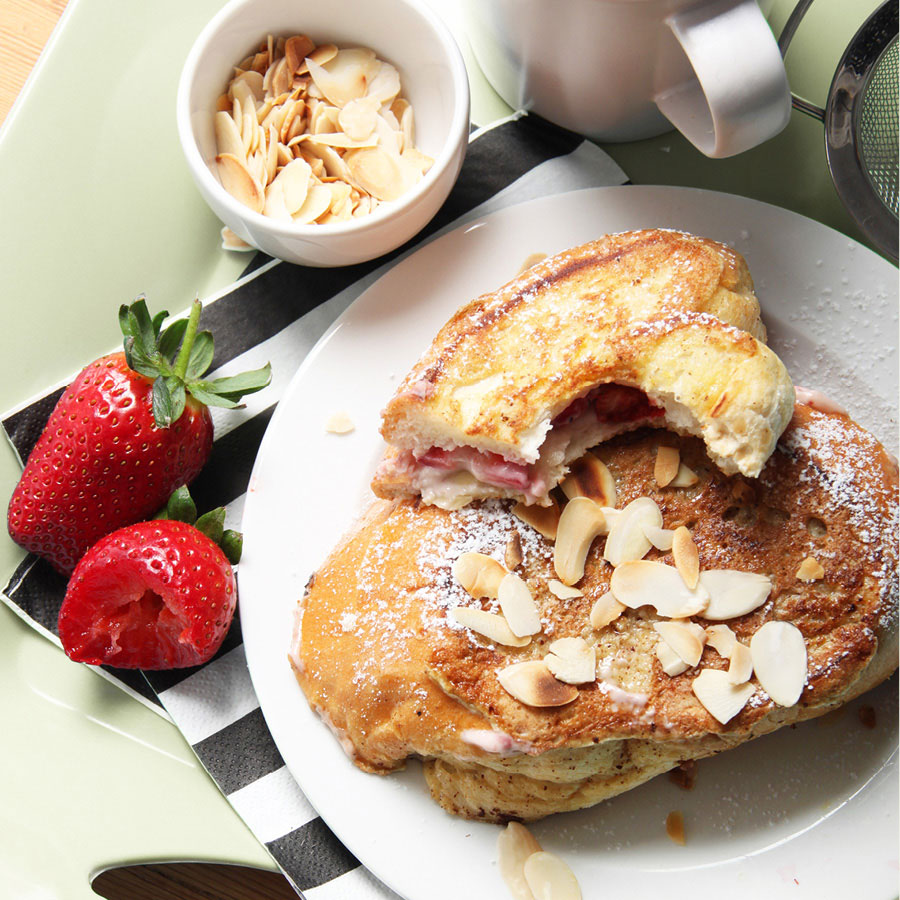 Ingredients
French Toast:
1 oval shaped loaf of white bread
2 - 3 eggs
15 ml water per egg used
10 ml oil for frying

Filling:
45 - 50ml strawberry jam
½ tub cream cheese at room temperature
5 - 7 Strawberries, thinly sliced
30 -50 g flaked almonds
Icing sugar, extra strawberries and almond flakes for garnishing
Method
Slice bread into thick 5 cm slices. Using a paring knife, cut a deep slit across the top in the middle of each slice to form your pocket. Set aside.
Mix the jam with cream cheese. Place a layer of fresh fruit and flaked almonds in the bread pocket, before filling with 1 -2 teaspoons of cream cheese per slice. Gently squeeze each slice of bread closed and set aside (be careful not to overfill the pockets, as they get difficult to manage).
Heat an AMC 30 cm Electric Frying Pan over a medium temperature (Probe on 6) until the VisiothermⓇ reaches the first red area.
Meanwhile beat the eggs with water. Once cookware has preheated, spread oil over the base and dip the filled bread slices in the egg bath. Fry both sides until golden brown and heated through. Remove from cookware and keep warm while frying the remaining slices. Serve sprinkled with icing sugar and garnished with additional fruit and almonds.
Variations:

Make an apricot or peach version using fresh apricots or peaches and apricot jam.
Thinly sliced banana, honey and chopped pecan nuts could also be another great filling.

Here are some more French Toast recipes for you:
Share this Filled French Toast recipe now!