2018 Travel Incentive
During 2018, AMC celebrates its 50th birthday. This means our travel incentive for 2018 will be a big birthday bash, and we want you to be there!
We'll be celebrating our 50th year milestone in style at the amazing South African venue of Sun City. Come and enjoy this premium destination with palm fringed beaches, the magical Lost City and an exciting nightlife. Travel, accommodation and catering are all on us, so you can't afford to miss this one of a kind African experience! Below is the qualifying criteria for the birthday celebration, and remember, you have until 6 January 2019 to qualify!

AMC Consultants
Points are calculated as combined Nett personal points + Nett personal new recruit points.
50 Nett points = double ticket
30 Nett points = single ticket
Appointed Managers
600 Nett points = double ticket
Home-based count towards your centre for the entire time the link exists.

Home Based Managers & In-House Managers
240 Nett points = double ticket
No pay in for partners allowed. Please note all partners must be over the age of 18 and cannot be an AMC Consultant or employee of the company.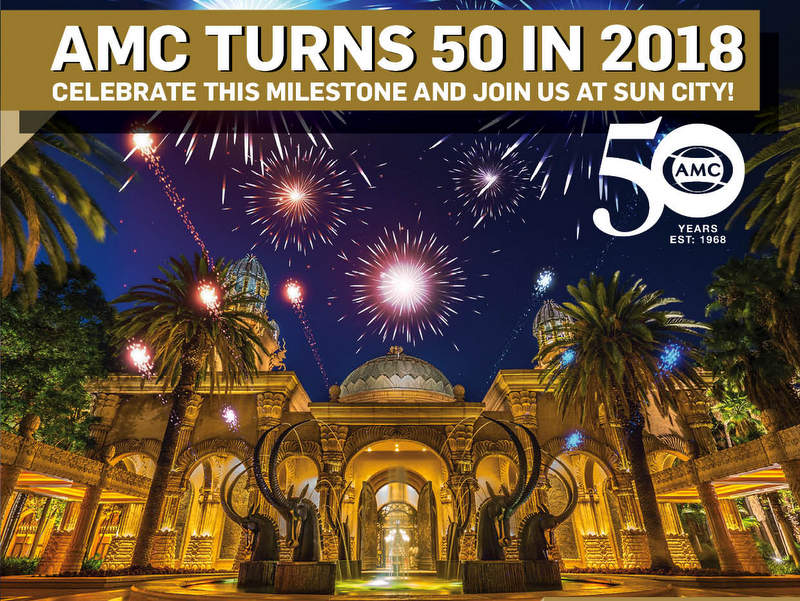 Wait there's more!
Our 2018 Top Achievers will be rewarded with a fantastic cheque incentive of R20 000. We are looking for the The Top Consultant, Top Recruiter, Top Individual Manager and Top New Recruit Points by Sales Centre! So stay motivated and focused and you could be walking away as one of our Top Achievers!
The Palace awaits
An exquisite room at the Palace of the Lost City awaits the Top Individual Manager; Top Home Based Manager and Top Consultant in the Race to Sun City. Don't miss your opportunity to experience this luxurious accommodation – an experience of a lifetime!
Arriving in style!
Arrive at Sun City in style and get the red carpet treatment that you have earned! There are only 36 spots available in the limousines, will you be arriving at Sun City in style?
Join the Sunsetters Club
And see the sun set for two extra nights at Sun City!
Qualify for a two night extension when you join us for our 50th birthday at the superb destination of Sun City. You'll welcome the rest and relaxation after all the celebrations!
Rules to qualify for the extention:
Consultants: 100 Nett points (personal sales & new recruits)
Home Based Managers: 280 Nett points
Appointed Managers: 700 Nett points
The 3 qualifiers of the Palace rooms will join the rest of the group at the Cabanas Hotel for the extention. Extended stay includes accomodation, breakfast amd meal vouchers for lunch and supper.